July and August 2011 will bring us the beginning of our tenth month.
This is a difficult world to live in as is any career that relies on creative juices and the hope your juices will appeal to the masses.
By now many of our authors were
wondering how come they weren't making a
fortune? We had the awards...we had to blogs...we had the vendors...so how come most of us were not depositing the equivalent of bank accounts
big enough to support small countries into OUR bank accounts.
Being authors at any house is
time consuming...we work round the clock
between writing our stories, editing them, releasing them, promoting them, but still our royalties somehow don't quite meet our expectations. And some authors have some deep seated issues over this discrepancy. To quote Cuba Gooding...SHOW ME THE MONEY became a mantra for many an author.
We are two years into this journey and if I get nothing across to my brother and sister authors please let it be this...Kat and I have repeatedly been told this by some of the
top e-authors in the industry. It is going to take about
FIVE YEARS to build up a fan base big enough to quit your day jobs and write full time. If you are in this to get rich like
J.K. Rowling, quit now...it is a rare author that sets the book world on fire like that...and a
LOT of luck.
J.K. Rowling's manuscript landed on the right desk at the right moment.
any element in her equation and she'd still be like most of us, navigating here in the trenches...hoping, working our tails off, and praying the next
five star review will generate enough interest to get our names out there front and center.
Two years, and my royalty numbers are still not even
peeking over the lip in the hole in the ground I am still hoping to emerge from...BUT I KNOW IT WILL HAPPEN.
Why do I know it will happen? Because
Lea Schizas and Litsa Kamateros are at the helm of the Good Ship Muse.
Remember that
transparency bit Lea insisted upon in the beginning...well guess what...it wasn't a flash in the indoctrination of Muse It Up's Pan. Lea STILL let's us know what's happening. She created a special
loop JUST to make sure we do not miss her important updates...and that's on top of the usual loops most publishing houses have...you know the authors loops, editors loos, cover artist's loop and reader's loops. Lea gave us a
Loop so we can chat as authors, and friends and not take time or attention away from the "usual" loops. And she encourages us to
think outside the box.
Over on the loops she placed files of resources she and Litsa found by
burning the candles at both ends day in and day out. NOTHING that can be done to help us reach for the
brass ring as authors is denied. Some publishers demand you not be publishing with other houses...Lea and Litsa encourage it...exposure, they explain...the more of it we get the better.
So as we move into month
ten, I am even more certain the day will come when my name
L.J. Holmes will be as famous and my bank account as healthy as the authors we currently hold up as success stories here in our e-pub-world.
So now, let me
share the books and authors joining our ranks throughout July and August 2011. Some are brand new authors...some you will recognize from October thru December 2010 and January thru June 2011.
Let's get started.
1.) MAY I HAVE THIS DANCE by multi-released Muse author Roseanne Dowell.
2.) FREED FROM FEAR by new Muse author Jaxx Steele
3.) CAGED by new Muse Author Remmy Duchene
4.) A REASON TO KILL by new Muser Nathaniel Tower
5.) MASKED LOVE by multi released Muser Ginger Simpson
6.) SPECTRA by new Muser Joanne Elder
7.) THE BLUE OF HER HAIR. HE GOLD OF HER EYES by multi released Muser John B. Rosenman
8.) LURKERS by new Muser Lindsay Below
9.) OUT OF THE SHADE by new Muser Dianne Barr
10.) MISSING, ASSUMED DEAD by new Muser Marva Dasef
11.) FATE & FANGS: LOVE: ANN AND THE VIKING by new Muser but most prolific Kristine Battestella
12.) THE POWERS by returning Muser S. Durham
13.) THE HEART OF THE QUEEN Book Two in the Gods At Work Series, but multi-released Muser Kat Holmes
14.) THE SECRETS OF GREY STONE ISLAND by new Muser Andrea Koehler
15.) THIS TIME FOREVER, by...well ME again.
16.) LOVE DELIVERY by a new Muse author and one of our best editors as well, Penny Lockwood Ehrenkranz
17.) THE ANTIQUE TOY CAR by multi-released Muser John Russo
18.) BANYAN by new Muser Sameena Bachmeier
19.) REMY by new Muser Tricia McGill
20.) A
TRACE OF LOVE by new Muser Danielle Ravencraft
21.) ZARENA by returning Muser Rebecca Ryals Russell
22.) RELUCTANT COMPANION, by multi-released Muse Christine London.
23.) SUMMONING DARKNESS by returning Muser Erika Gilbert
24.) FAST GIRLS ARE TRUE by multi-released Tigra-Luna LeMar
25.) UNALIVE by returning Muser Cyrus Keith
26.) MIDNIGHT FIND by new Muser Christine I Steeves, also one of our gifted editors.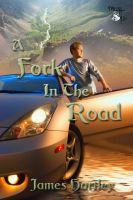 27.) A FORK IN THE ROAD by multi-released Muser James Hartley
TWENTY-SEVEN new books...to add to the NINETY already released. In other words now that we are coming to then end of Muse It Up Publishing Inc.'s TENTH month Muse has ONE HUNDRED SEVENTEEN e-books available...and an equally impressive number of print books also available.
It should be noted most e-publishers are not solvent enough in the first year to add print books to their bookstore...but MUI is NOT at all like other e-pub houses. Take a look at this display.
Amazing don't you agree?
But as you can see, picture one is only PART of Muse's Print Story...and in our FIRST year!
In this first year the following books became available in
Print in alphabetical order:
1.) A WEDDING TO DIE FOR by Heather Haven
2.) AHTABAT: MAN'S EXTINCTION by Christina Schizas
3.) ASHES by Arlene Webb
4.) BETWIXT AND BETWEEN by Grace DeLuca
5.) DARK SIDE OF THE MOON by Terri Lynn Main
6.) EROTIC DECEPTION by Karen Coté
7.) FALLON O'REILLY AND THE ICE QUEEN'S LAIR by Debra K. Dunlap
8.) GUILTY KISSES by Killarney Sheffield
9.) IF I COULD BE LIKE JENNIFER TAYLOR by Barbara Ehrentreu
10.) KELLAN'S DRAGON by Antonia Tiranth
11.) LAUREL'S MIRACLE by Nancy Marie Bell
12.) LURKERS by Lindsay Below
13.) MIND OVER MATTER by S.J. Clarke
14.) MURDER IS A FAMILY BUSINESS by Heather Haven
15.) NUDE DESCENDING STAIRCASE by Joyce Richardson
16.) OBSESSION by Sally Royer-Derr
17.) ODESSA by Rebecca Ryals Russell
18.) OUT OF THE SHADE by Dianne Barr
19.) RAST by Christopher John Hoare
20.) RESURRECTION GARDEN by Frank Scully
21.) SHADOWS STEAL THE LIGHT by Christine London
22.) SHORTCOMINGS by Ginger Simpson
23.) SPECTRA by Joanne Elder
24.) SUBSPECIES by Mike Arsuaga
25.) SUMMER OF FIRE by Kevin Craig
26.) THE DEVIL AT MY HEELS by Charles Mossop
27.) THE FIREBORN CHRONICLES: RESONANCES by Mary Andrews
28.) THE HALLOWEEN DINO TRIP by Lee Hovris Shizas
29.) THE KING OF SILK by Joe Douglas Trent
30.) THE LIGHTHOUSE by Kat Holmes
31.) THE LYCAN MOON by S. Durham
32.) THE RELICS OF NANTHARA by Nick G. Gianarras
And two very special books that speak to causes at the very heart of what we all are here at Muse:
1.)AUTISM EPIDEMIC: SHAKING THE SYSTEM by Litsa Kamateros and Lea Schizas: And exceptional resource for anyone dealing with Autism either personally or within your communities.
2.) LAVENDER DREAMS, by many and dedicated to the war on cancer some of us have fought and beaten, some of us, will never be forgotten
I have many reasons for my
love of being at Muse, but our determination to be a part of something bigger than the whole of us put together is why Muse will continue to excel. To us the
world is our oyster and creating GREAT books is but a part of our goal.
I've learned much from Lea and Litsa, but one of the most important lessons I've learned is we're a part of the WHOLE world and owe them our best too.
Following in the footsteps Lea and Litsa laid down for us, this is what I did last year.
I wish I could say I sold a gazillion books last year...but I know one day I WILL be donating the totality of my royalties for an entire quarter to The Providence House and it'll make as much of a difference as Muse It Up Publishing and it's Captains Lea Schizas and Litsa Kamateros have made in all of OUR lives..
That ends the JULY and AUGUST 2011 Muse Presentation...
SEPTEMBER AND
OCTOBER 2011 will bring about the FIRST birthday...and wait till you see ALL Muse did for that very special