December brings out the little kid in all of us...and we, at Muse It Up Publishing, are no different.
Santa Claus is coming, along with the release of SIX Muse It Up
Reindeer, in the form of new books.
I can't lie...for me, December 2010 was both exciting and terrifying. I'm a December baby, and love the pomp, pageantry
and playfulness of December. Seeing the magnificent
light displays people work so hard to get just right is like taking a walk through Fantasy-land for me...but December 2010 had me writhing because MY
first book would be coming out from my beloved
Muse...and although part of me was dancing on the ceiling, another part of me was wringing the wrinkles off my knuckles. Would my story do Muse and me proud or would I be a
weak link in the growing Muse It Up Chain of success???
So with my
heart in my throat, I bring you
December 2010.
Vanity I guess says I should give you my book first...or maybe I just want to get it over and done with so I can take a steadying breath and move on...For I released with some really dynamic books...
So
Except for my own being the first...be still my thudding heart...the rest are in no particular order.
1.) Santa Is A Lady by L.J. Holmes
2.) For the Love of Rei by Tigra-Luna LeMar
3.) The Boys Upstairs by Jane Lebak
4.) Be Good to Your Elf by Elizabeth Coldwell
5.) Ahtabat: Man's Extinction by Christina Schizas
6.) The Enchanted Bathroom by Liam Stalls
December
brought us a cavalcade of Schizas talent with the release of Ahtabat: Man's Extinction. Written by Christina, one of our gifted
Publisher's
daughter's, the cover, one of the scariest covers I have ever seen, was done by GEORGE Schizas, Lea's son.
What an honor to release the same month the Schizas explode across the publishing world.
FOR THE LOVE OF REI, is another book I have not read. Since I am getting up there in years...(the blonde locks of yesteryear have morphed into a color I call either silver or
snow white..I do NOT do gray unless we're talking about the little cells that make up my brain)...I don't remember if I said that I am first drawn to a book by its
cover...
like this one that introduced me to Glenn Kleier years before Muse It Up Publishing debuted...
sad, I know, but true...and I didn't really like For the Love of Rei's cover...HOWEVER my likes and dislikes, fortunately, have little to do with the success or failure of a story...BECAUSE this one will claim the
number one spot for many, many months.
THE BOYS UPSTAIRS is an
inspirational story perfect for the Christmas celebration and has all the depth of emotion to have it leap into the same league as that classic movie
IT'S A WONDERFUL LIFE.
BE GOOD TO YOUR ELF is a
feel-good Holiday romp just waiting for the masses to enjoy. It also introduces us to a Muse author with an incredible range of storytelling skills.
THE ENCHANTED BATHROOM will make you
laugh...seriously with that title how could it not...but it will also make your
toes curl tighter than any of Santa's elves...it's THAT
hot!
Okay...that only leaves mine to talk about...and I have the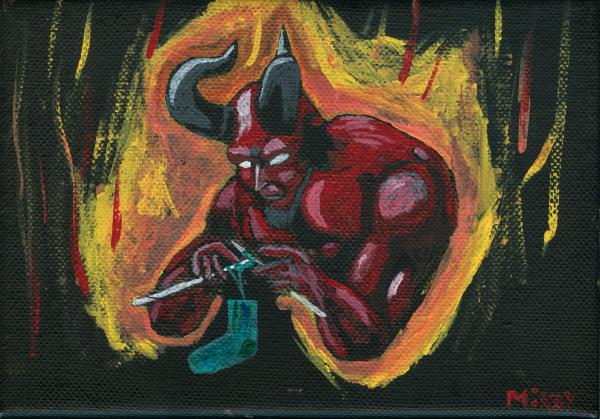 devil's own time bragging about my work...sooo
Christmas Miracles: Santa is a Lady - Book One in the series
He didn't look to the left; he didn't look to the right; he made a direct beeline for Santa's North Pole Throne and Angie's vulnerable lap.
It had already been an eventful day. Although Angie knew when she did it, it was probably a petty thing to do, she arrived at eight o'clock, not the earlier seven-thirty Beck had commanded the night before. It had given Angie a fleeting moment of righteous tit for tat pleasure. Of course, Beck had not been the least bit amused and had shown her annoyance in the manner she helped Angie get into her Santa disguise.
Angie turned a deaf ear to Beck's litany of complaints, but by the time the doors actually opened, Angie's body felt a bit tender from Beck's "loving" ministrations and her limp seemed a bit more pronounced as she made her way to the North Pole Throne and another day locked into Santa cheer.
The doors opened onto a stream of Santa fans that had been lined up in the cold that formed a queue from Santa's throne to the door. Many had brought digital cameras demanding Santa and their cherubs pose this way and that. Santa felt old before her time by the half hour mark.
The line worked its way down as the minutes moved on. The cash registers' ka-chings had also gradually filtered, in Angie's mind, blessedly into silence as the store emptied of Beck's sainted customers.
Into that silence, though, he vaulted.
Known throughout all of Northeringale and twelve of the fourteen surrounding townships, Julian Harper arrived. Some people looked at Julian and saw an adorable though outrageously precocious scamp. Angie knew better. She'd babysat Julian once, almost a year ago, and had yet to fully recover from the experience. He was, to put it kindly, the proverbial bull-in-the-china-shop. Nothing he did was done by half measures including lurching up onto Santa's lap where he landed with an inhuman thud.
Angie's hip screamed out a chorale of yelps and she had to force her lips not to give voice to the silent screams within her. Biting down on waves of rippling agony Angie spouted her usual, "What can Santa bring for you, my fine boy?" spiel.
Julian Harper's repertoire didn't consist of sitting still either. Angie looked around frantically for the boy's mother. And wondered why she'd allowed him to come into Sweets and Treats without her. No doubt to get her own reprieve from the little hellion, Angie thought sourly.
Julian Harper boosted himself up into a standing position so he could stretch over Santa and check out the long fall of Santa curls running down Angie's back, catching his grubby paws in the acrylic locks. His fingers, sticky from whatever he'd had in them before coming into Sweets and Treats became ensnarled in the phony mane literally handcuffing Julian's hands and the wig together.
Using his feet, Julian kicked out to get leverage, then jabbed, and jumped all over Angie's lap trying to free himself from his captivity while screeching right in her ears at the top of his lungs. Angie, sensing the approaching disaster screamed for Beck to come and prevent the serious trouble about to fall upon them. Just as she screamed, though, Julian's booted foot bulls-eyed down on Angie's already battered hip. Another scream, this one loudly vocal and crammed with Angie's suffering rent the air.
Beck reached the wildly out of control Julian and pulled him and Santa's wig away from Angie in one powerful sweep.
Julian, his paws filled with the fake Santa hair, stared at Angie's hairless Santa and began squealing, "Santa's a fake" over and over again loud enough to wake the dead. He also began wriggling frantically in Beck's hold, but she held onto him for dear life carting him into the back of the store where the bathroom waited to get his grubby hands free from Santa's wig.
Now we will be leaving 2010 and the meteoric debut of Muse It Up Publishing. 2011 is right around the corner, and with it, Muse finds its own rich vein of talent as more and more authors find their way to the Muse Publishing House.
For those who are counting so far Muse It Up Publishing has, in three months released... SEVENTEEN books.
Let's recap before we say
to 2010
1.) The Killer Valentine Ball by C.A. Verstraete
2.) Fallon O'Reilly and the Ice Queen's Lair by Debra Dunlap
3.) The Ghost of Grover's Ridge by James Hartley
4.) Grounds For Murder by John Russo
5.) Harvest Moon by Krista D. Ball
6.) The Halloween Dino Trip be Lee Hovris Schizas
7.) A Taste of Terror by Chastity Bush
8.) World of Ash by Kevin Hopson
9.) The Fireborn Chronicles-Resonances by Mary Andrews
10.) Hurricane Warning by Ginger Simpson
11.) Boating With The Buttermores by Randall Lang
12.) For the Love of Rei by Tigra-Luna LeMar
13.) The Boys Upstairs by Jane Lebak
14.) Be Good to Your Elf by Elizabeth Coldwell
15.) Ahtabat: Man's Extinction by Tina Schizas
16.) The Enchanted Bathroom by Liam Stalls
17.) Santa is a Lady by L.J. Holmes
...January

is coming and along with a lot of really great new books, and a whole boatload of
awards for those already here.